iPhone SE 2020 case with camera shutter
Regular price
$ 19.99 USD
Regular price
$ 39.99 USD
Reduced price
$ 19.99 USD
Unit price
per
Sale
Sorry, I am Sold out.
A case that covers all.
Your Phone. Your Camera. Your Privacy.
Don't risk your camera in a case that doesn't cover it.
As we have the best case for iPhone SE 2020 that you have been longing for.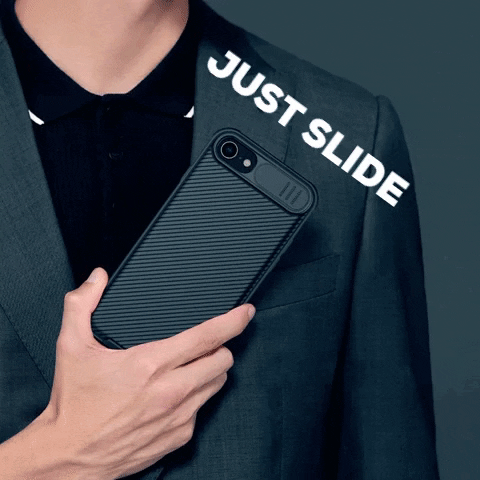 Keeps your camera safe.
Although the camera lens of the iPhone is claimed to be made out of sapphire crystals that are harder than diamonds, there are lots of people who have experienced a crack or shatter in the lens without a rough usage.
This case provides an all-rounded coverage without leaving your cameras exposed.
Simply Slide-in to protect and Slide-out to capture.
Keeps your cameras dust-free and smudge-proof so that whenever you slide out, the camera ready to use.
Even when the slider is left open in the event of a fall, the slightly raised bezels protect your iPhone camera and do not let it touch the surface.
You also don't need to think twice before putting your phone in your pocket with other stuff like keys, coins, or sharp objects that could potentially damage the lens.
Shock-resistant airbag on all corners.
If you are rough with using your devices, this case will take care of your iPhone SE 2020 with its shock-resistant airbags that cover all the corners and protects your phone from damage.
In the event of a fall, air pockets in the corners absorb impact and protect your handset from dings and bumps.
While a raised lip around the edge helps guard the screen against cracks. 
Saves the cost of replacing the lenses.
Addresses the problem of uncovered lenses in almost every other case available out there.
Especially considering the people who suffer from the damaged lens which can't be replaced easily or cost-effectively.
Accurate cut-outs and classic looks.
With its minimalistic design, you get to enjoy the classy feel while keeping your phone fully protected.
Easy-press layers cover the volume rockers and side buttons.
All cutouts line up accurately around ports and cameras for the best fit and functionality.
It can even be used to replace your iPhone 7/8 case.
Safeguards your privacy.
It's a scary feeling if someone can access both front and back cameras, record you anytime, take pictures and videos and even upload them or Livestream the camera on to the internet with just simple app permission that you granted.
FBI Director James Comey covers the cameras and calls it sensible security and privacy steps.
If he does, we all should.
It's only paranoia until it's too late.
This case covers the cameras so that people who don't have the authority don't snoop in.
While this case covers just the back cameras, you can use a simple privacy shutter to cover the front cameras as well.
Premium to the touch with non-slip grip.
The grip bars on the sides and back offer serious hand-holding power with raised ridges that protect your phone from drops.
No oil or fingerprints are left behind.
Feels soft in the palm of your hand and maintains the premium feel of your iPhone.
More grip, more confidence
Doesn't add bulk.
It doesn't add unnecessary bulk to your phone, feels light, and fits snuggly.
Shutter slides back and forth easily.
With the 0.2mm lifted slider, you can safely and smoothly slide in or slide out the camera shutter without touching the lens.
The slider is designed with precise scientific calculations so that it is neither too loose nor too tight.
Tough and reliable material.
Made from environmentally-friendly PC and TPU, a tough and wear-resistant material.
Soft to touch. Hard to damage.
Conveniently packaged.
Packed securely in a hard box with a protective film.
Looks great for gifting purposes.
Delivery Time 
Due to high demand and different warehouse locations, the product may take 10-20 days to reach your doorstep. 

Due to COVID-19 spread across the globe, that time range will possibly be extended by 5-10 days.
For the United States: Free shipping on orders of $9.99 and above.
Free the Rest of the World: Free shipping on orders of $19.99 and above. A small shipping cost of $2.99 will be applied if the minimum condition of the order value is not met.
All orders are sent with Insured and Trackable Shipping service. 
Muselot's 6-point checklist
1. Free Shipping to the United States on orders of $9.99 and above and to the Rest of the World on orders of $19.99 and above.
2. Safe payments via Credit/Debit Cards and/or PayPal®
3. All orders sent with an Insured and Trackable Shipping service. You get a Tracking number for every order.
4. 30 Day Money Back Guarantee 
5. Lost in transit, defective, or wrong packages resent immediately free of cost.
6. Real humans on our support helpdesk! Feel free to connect with us at support@muselot.com. We reply within 7 hrs.
We use encrypted SSL certificates for 100% security
Share
Inside Scoop on our Mugs

- Not just a mug

These cute ceramic mugs are so much more than just a mug.

You can use it as a soulful gift or a souvenir.

Not just that, the utility of these mugs is not limited to sipping your beverage in them.

You can use them as pen stands, candle holders, small flower pots, or simply preserve these as a classic masterpiece in your living room or study table.

- Created by hands for a personal touch

These mugs are exquisitely handcrafted with love and care. That's the Muse of Muselot.

- Eco-friendly

Contains no lead and is painted with all-natural colors that last long.

- Glossy Finish

Each sip feels gentle on the lips, all thanks to the swanky glossy finish on these ceramic mugs.
How to care for your cute mugs?

1. It is recommended to wash by hand or choose a dishwasher with a "ceramic and crystal" washing function.


2. Clean at a proper temperature, avoid alternating hot and cold.


3. Do not directly stack and store to prevent chipping


4. Do not expose to strong light directly, and clean and dry in time.


5. For health reasons, please do not place acidic substances in beautifully decorated porcelain for a long time.
Shipping and Delivery

They are shipped within 24-48 hours of placing the order with us.

We offer both free and fast shipping services.

The delivery times depend on the shipping method you choose at checkout.

You can expect them to be delivered within 10-20 days of placing the order with us. 
Our 5 Point Checklist

1. Safe payments via Credit/Debit Cards and/or PayPal®

2. All orders sent with an Insured and Trackable Shipping service. You get a Tracking number for every order.

3. 30 Day Money Back Guarantee 

4. Lost in transit, defective, or wrong packages resent immediately free of cost.

5. Real humans on our support helpdesk! Feel free to connect with us at support@muselot.com. We reply within 7 hrs.

We use encrypted SSL certificates for 100% security
Your iPhone SE 2020 case with camera shutter is