Catch-all baby bibs
Regular price
$ 14.99 USD
Reduced price
$ 14.99 USD
Unit price
per
-40% OFF
Sorry, I am Sold out.
🤱

Hats off mama!
Your little bundle of happiness is now 6 months or older and ready to start with solids.
Start with Baby-Led Weaning, to let your baby take charge and feed themselves.
But are you ready for it?
Or you gonna wipe off the floors of mashed avocados and bath your messy little critter after every meal?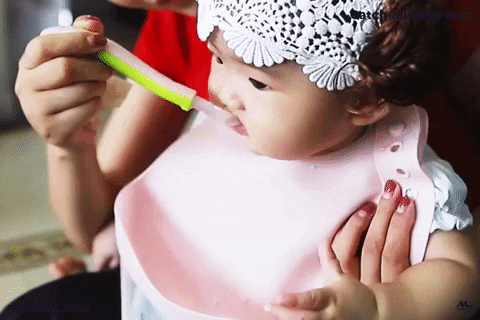 To deal with the stress of the mess when your baby gags, spits, or slips food from hands, the first thing you should grab is a catch-all baby bib that has a reservoir like pocket-front to pick the foods falling off.
These cute baby bibs (a lot lesser than your kid!) will help with easy cleanup and make Baby-Led weaning, a lot easier for you.
🙋‍♀️ 

Convenient catch-pocket for spills and dribbles.
Let's face it! Gagging is very common in the early days of feeding solids. Babies drop a lot of food especially with solid foods, there are chunks of things constantly falling down.
The silicone pockets of these bibs are big enough to catch the majority of food that doesn't make it into your baby's mouth.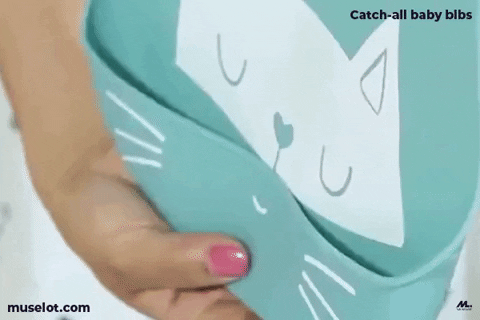 Things like yogurt, sauce, or spaghetti tend to get all over the eating space and leave stains all over your baby's clothes.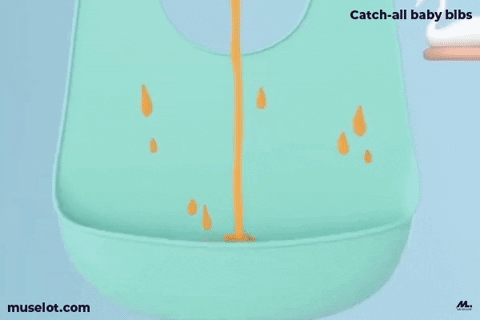 This catch-all bib prevents food from getting squished all over the highchair, clothes, and floor. Save time and effort with the easier cleanup.
💁‍♀️ 

Easy to put on and stays in place.
There are 6 latches on the adjustable neck strap which is easy to put on even the squirmiest baby.
A tab hook secures it around the baby's shoulders and keeps it snug.  
One size fits all babies perfectly, no matter the weight and size of your baby.
💆‍♀️ 

Keeps you less stressed.
It's great to see the youngest member of the family sit in the high chair before a spread of finger foods, attempting to transfer the bits from tray to tongue all on their own.
These cute bibs allow for a more natural and family-friendly way of serving solids to your baby without being much stressed about the sputtering and gagging.
🧖‍♀️ 

Made with Food grade and BPA free silicone.
These silicone baby bibs are BPA free. They are edible and safe for your baby even if they try to bite or lick it.
You can even boil it in hot water to clean oil and dirt without the fear of any damage to these bibs.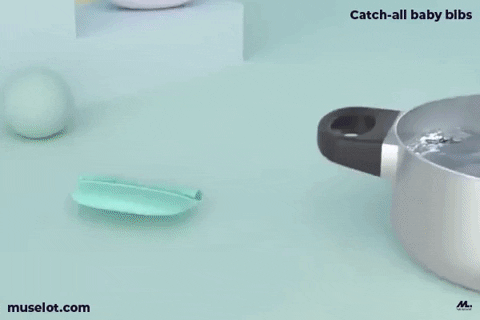 They are also waterproof and dries quickly. (No potato purees can seep through the material!)
🧼 Easy to wash and reuse.
Toss it into the dishwasher for a quick wash like any utensil or simply wipe the bib with a damp cloth and you're good to go. It does not resist stains, or absorb liquids, unlike cotton bibs.
You can wash and reuse it over and over again.
Yes, Mama! These are your easy peasy cleaning secrets.

🎈 

Butter soft, lightweight, and comfortable
These are soft to touch, and gentle even on the most sensitive skin of your baby.
Super lightweight and comfy, does not add bulk over your little baby.
🏃‍♀️ 

Stashed easily while on the go
Is your toddler on the move? Or are you planning for a family dinner outside?
Just roll up these baby bibs in your travel pouch, handbag, or stash it in a diaper bag, to dine together with "little you" in the restaurant high-chair.

🧸 Calming and cute prints
Cute animal baby bib patterns just add a bit more fun to your baby's mealtime.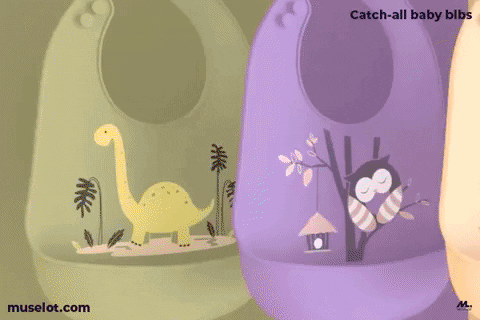 👶 Helps babies learn self-regulation
This bib can help your little one explores food at their own pace, without creating a rush for you to clean up.
That surely means smashing, smearing and dropping foods and probably making a big old mess at every meal.
But you don't have to sweat! Just stay with your baby when they eat and give them their time to work it out while this bib stores the mess for cleaning up later.
This helps your baby develop self-regulation and feed themselves not more than they need to feel full.
Features
Type: Catch-all baby bibs in animal patterns
Material: Soft silicone (Food grade, BPA free, PVC free)
Material type: Waterproof, oil, and stain-resistant, machine washable.
Suitable for age: 0-5 years 
Gender: Unisex
Weight: 80 grams
Delivery time
For the United States - 12-20 days.
For France, Germany, and Australia  - 15-20 days.
For Others - 20-40 days.
A short introduction for Muselot
Muselot is a brand created by 3 enthusiasts who can be described as young, hardworking night owls and tea lovers.
We connect with responsible suppliers all around the world to curate simple everyday products with complete research so that you never fall for misleading self-praise.
Our motive is – to be completely honest with every simple detail about the products we offer.
There are all kinds of brands in the online space, but not many are totally honest about the pros and cons of what they offer.
We hate to be hated for taking the online platform and misusing it to brag unnecessarily.
We first assure ourselves by using the product samples to make sure it does what it says and then try to be as true as possible based on our experiences.
Muselot's 6-point checklist

1. Free Insured Shipping on orders above $9.99. No surprises or hidden fees.
2. Safe payments via Credit/Debit Cards and/or PayPal®
3. Tracking number for every order.
4. 30 Day Money Back Guarantee 
5. Lost in transit, defective or wrong packages resent immediately free of cost.
6. Real humans on our support helpdesk! Feel free to connect with us at support@muselot.com. We reply before 24hrs.
We use encrypted SSL certificates for 100% security
Share
Shipping and Delivery

They are shipped within 24-48 hours of placing the order with us.

We offer both free and fast shipping services.

The delivery times depend on the shipping method you choose at checkout.

You can expect them to be delivered within 2 weeks of placing the order with us. 
Our 5 Point Checklist

1. Safe payments via Credit/Debit Cards and/or PayPal®

2. All orders sent with an Insured and Trackable Shipping service. You get a Tracking number for every order.

3. 30 Day Money Back Guarantee 

4. Lost in transit, defective, or wrong packages resent immediately free of cost.

5. Real humans on our support helpdesk! Feel free to connect with us at support@muselot.com. We reply within 7 hrs.

We use encrypted SSL certificates for 100% security