Premium lens protectors (11 pro,11 pro max)
Regular price
$ 24.99 USD
Regular price
$ 34.99 USD
Reduced price
$ 24.99 USD
Unit price
per
Sale
Sorry, I am Sold out.
Protect one of the best parts of your iPhone investment - Your precious camera lenses!
A senior editor at CNET concludes through a series of drop tests that she wasn't able to break the screen of the iPhone 11pro/pro max but did manage to break the cameras.
These iPhone lens protectors are great inexpensive insurance for your camera lenses.
The best part is that even if these lens protectors get scratched with multiple drops, the cost of replacing these would feel like a lifesaver than replacing the actual lenses.
Gives you peace of mind.
With a vulnerable camera lens extending past your case or at the same level, it can get scratched easily if not careful.
While having these lens protectors on, you can put your phone in your pocket with coins, keys, and other sharp objects or place your phone camera side down, FEARLESSLY.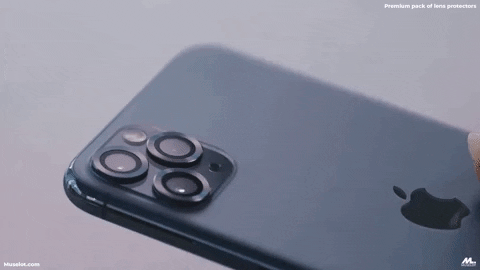 The chances of ever experiencing a situation where you need to pay out-of-pocket to repair or replace a broken /scratched camera lens reduce sharply. 

No distortion to the picture quality.
There is no change/distortion to the picture quality while having these lens protectors on. The images are just as good as they are without them.
Crafted in the same iconic colors as your Phone.
With edges in the exact same color as your iPhone, it looks like part of it.
They beautifully blend with your iPhone color and do not affect its appearance at all.
Need the camera covers for iPhone 11? We have them and they cloak perfectly with your iPhone 11 color just like these.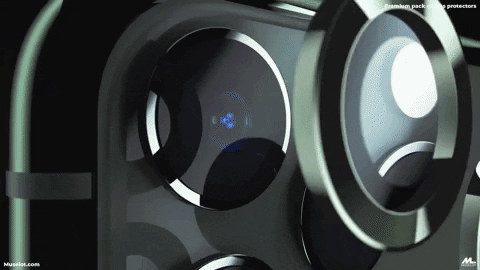 These are made with exceptional quality hardened glass and metal to withstand 1000s of scratches and optimize the performance of your camera lenses, keeping them new for longer.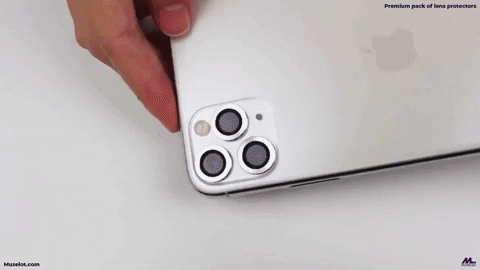 Keeps edges covered with precise cuts
Like ordinary film protection, these do not leave the edges uncovered, provide fully covered protection from sides to the lenses.
On top of that, these covers leave no space for dust particles to muster around the troika at the back of your iPhone.
If the area of adhesion is properly cleaned, they will stay put until you take them off.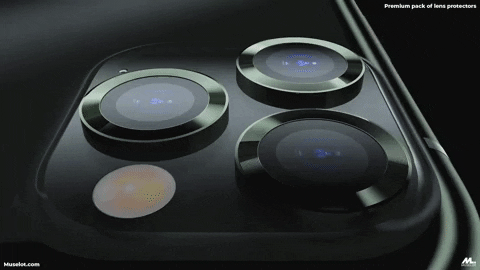 Protects the lenses from oil stains and smudges.
Frequent finger smudges and oil transfer affects camera performance overtime.
They prevent smudges and skin oils from coming in contact with your original lenses, which helps retain the camera quality for longer.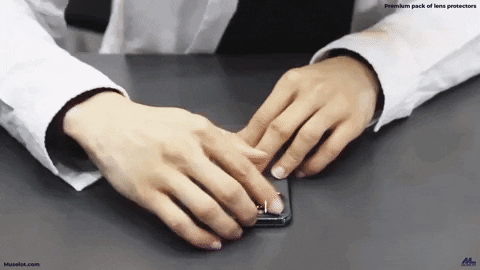 Durable enough to keep your lenses secure.
They are made with alloy metal and glass, which is highly durable and reliable to protect the lenses, unlike any other cheap plastic covers.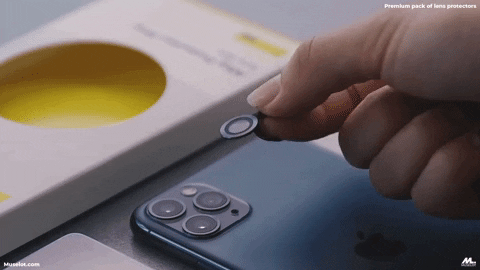 Work well with any phone case.
These are super sleek and don't bulge the lenses. Fits very snug to the Phone, and you won't even know it's there.
Pairs well, even with the tightest fitting cases.
Easy to install and remove.
You can apply this on your own without any hassle. Use our cleaning kit and follow the steps to install in less than 30 seconds.
Note: After installation, don't rub the lens area and leave the phone unused for 3-4 hours so that the adhesive stabilizes and stays stuck. The best time to install in this case would be before bedtime. 
Package Contents

Lens protectors + Cleaning Kit. (Not iPhone)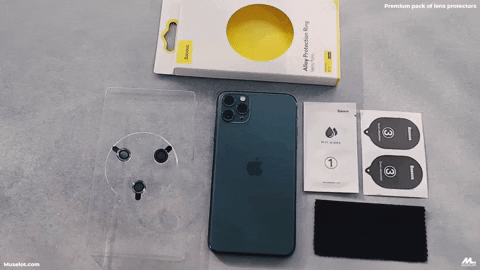 Delivery Time 
Insured and Free Trackable Shipping: 10-20 days to reach your doorstep.
DHL Express Shipping: 2-5 days (Cost can be seen at the checkout depending upon the location).
Muselot's

 

6-point checklist
1. Free Shipping on orders above $24.99
2. Safe payments via Credit/Debit Cards and/or PayPal®
3. All orders sent with an Insured and Trackable Shipping service. You get a Tracking number for every order.
4. 30 Day Money Back Guarantee 
5. Lost in transit, defective, or wrong packages resent immediately free of cost.
6. Real humans on our support helpdesk! Feel free to connect with us at support@muselot.com. We reply within 7 hrs.
We use encrypted SSL certificates for 100% security
Share
Inside Scoop on our Mugs

- Not just a mug

These cute ceramic mugs are so much more than just a mug.

You can use it as a soulful gift or a souvenir.

Not just that, the utility of these mugs is not limited to sipping your beverage in them.

You can use them as pen stands, candle holders, small flower pots, or simply preserve these as a classic masterpiece in your living room or study table.

- Created by hands for a personal touch

These mugs are exquisitely handcrafted with love and care. That's the Muse of Muselot.

- Eco-friendly

Contains no lead and is painted with all-natural colors that last long.

- Glossy Finish

Each sip feels gentle on the lips, all thanks to the swanky glossy finish on these ceramic mugs.
How to care for your cute mugs?

1. It is recommended to wash by hand or choose a dishwasher with a "ceramic and crystal" washing function.


2. Clean at a proper temperature, avoid alternating hot and cold.


3. Do not directly stack and store to prevent chipping


4. Do not expose to strong light directly, and clean and dry in time.


5. For health reasons, please do not place acidic substances in beautifully decorated porcelain for a long time.
Shipping and Delivery

They are shipped within 24-48 hours of placing the order with us.

We offer both free and fast shipping services.

The delivery times depend on the shipping method you choose at checkout.

You can expect them to be delivered within 10-20 days of placing the order with us. 
Our 5 Point Checklist

1. Safe payments via Credit/Debit Cards and/or PayPal®

2. All orders sent with an Insured and Trackable Shipping service. You get a Tracking number for every order.

3. 30 Day Money Back Guarantee 

4. Lost in transit, defective, or wrong packages resent immediately free of cost.

5. Real humans on our support helpdesk! Feel free to connect with us at support@muselot.com. We reply within 7 hrs.

We use encrypted SSL certificates for 100% security
Your Premium lens protectors (11 pro,11 pro max) is