---
---
Are you frustrated with frequent shaving and waxing?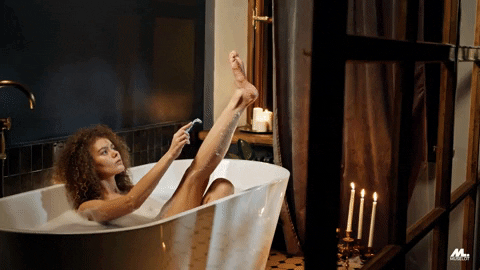 Now you can wear the silky skin for the rest of your life using this IPL laser hair removal handset and that too at the comfort of your own home.
This DIY IPL kit  -
✔️ Gives you lasting smooth skin at home.
✔️ Permanently reduces the hair-regrowth by 80%.
✔️ Treats your face and body painlessly. 

✔️ Save you a fortune of money spent over salons and laser clinics with 12+ years of life.
How does it work?
IPL stands for the Intense Pulsed Light. When flashing it over your skin, the light is absorbed by the pigment in the hair.
It quickly turns to heat and kills the growth cells with repeated use causing the follicle to become unable to grow hair again.
How to use it?
Just follow the 5 simple steps.
1.)    Shave the skin with the shaver and wear the eye-protecting goggles included in the kit to prevent any eye irritation by flashlight.
2.)    Choose one of the 5 energy levels to start with. (It is recommended to begin testing it at the lowest level and move gradually).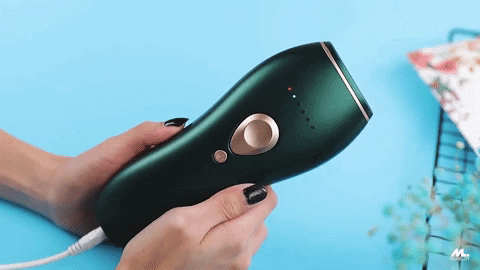 3.)    Select manual/automatic mode. For auto mode just long-press the flash button so that you can let the device do the work while you move it over your skin.
4.)    Erect the device at 90 degrees on your skin and start treating the desired area using the flash button.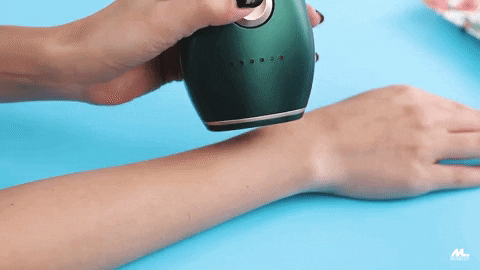 5.)    Apply some lotion to moisturize the skin after you are done with the treatment.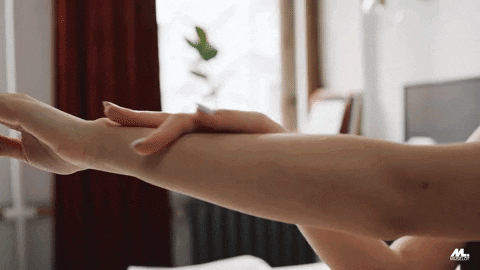 Why it is the best IPL handset?
Lifetime of treatments
With 500000 pulses of use life, you get a lifetime worth of treatments.
Crazy comfort of at-home laser treatment
Now you can treat your face and body hairs at the comfort of your home without paying a fortune and visiting the laser clinics for several sessions.
Reduced hair re-growth in just a couple of sessions
You are sure to see the visible results after just 1-3 weeks of usage (twice a week) with complete results in 8 weeks. The hair gets thinner with every treatment and the follicle gets damaged.
Treat any body part (including Face and Brazilian)
Sounds like a dream? Yep, Any part!
It is very gentle and safe to be used. Numerous worldwide studies demonstrate the safety and effectiveness of IPL for hair removal.
Handheld design with a small flash head makes it even more convenient to treat areas like upper lips, chin, and bikini line.
5 different power settings
This device comes with 5 different power settings to suit your skin-tone or skin sensitivity while still producing results at any level.
Takes just a few minutes to use (No expertise needed)
Both manual/auto mode
You can let the device flash continuously in auto mode so that you have to just glide through the skin which is suitable for areas like arms and legs.
You can also press the flash button in the manual model to release each pulse light on the target areas which is great for small areas like the face and Brazilian.
Completely painless
No more razor burns or painful sugaring/waxing.
This IPL laser hair removal reduces hair regrowth quite naturally and painlessly.
Some IPL users face a little discomfort but compared to other treatments offered, IPL is very much tolerable and painless.
Compact enough to travel
Take it with you, whenever and wherever!
So portable to stash it in your handbag and use it in your car.
One-time investment
American Laser Center, concluded through a survey that a female's lifetime investment who shaves sums up to $10207 and time of 58.4 days on an average.
You can pull that number way down with this effective and safe hair removal treatment.
A valuable gift
With luxurious packaging of this royal emerald green handset apart from the value it offers, this can be a great gift for someone special.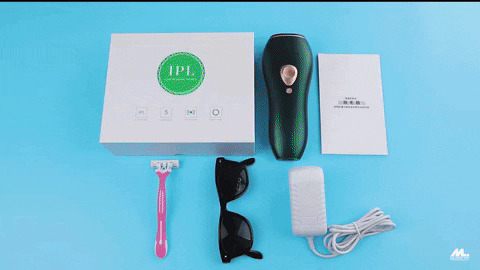 30 days money-back guarantee, buy it risk-free
If you don't find it working, you can contact us within 30 days after you received the IPL laser removal kit for a full refund.
Features

Type: IPL Laser hair removal kit
Power Type: Rechargeable USB cable (US/EU Plug Type)
Material: ABS + electronic components
Areas of application: Face, underarm, legs, arms, Brazilian, back, etc. (Strictly prohibited to be used on eyebrows or area around the eye)
No. of flashes: 5,00,000 (12+ years of product life if used daily)
Length of IPL handset: 19 cm
Size of flash head: 4.5 cm
🚚 Delivery Time 
Insured Trackable and Free Shipping - 10-20 days to deliver the order (During COVID-19, you can expect the time range to be extended by 5-10 days)
DHL Express Shipping: 3-5 days.
USPS Shipping for the United States: 4-13 days.
✅ Muselot's

 

6-point checklist
1. Free Shipping to the United States on orders of $9.99 and above and to the Rest of the World on orders of $19.99 and above.
2. Safe payments via Credit/Debit Cards and/or PayPal®
3. All orders sent with an Insured and Trackable Shipping service. You get a Tracking number for every order.
4. 30 Day Money Back Guarantee.
5. Lost in transit, defective, or wrong packages resent immediately free of cost.
6. Real humans on our support helpdesk! Feel free to connect with us at support@muselot.com. We reply within 7 hrs.
We use encrypted SSL certificates for 100% security
---