Rabbit bras (small to plus size)
Regular price
$ 19.99 USD
Regular price
$ 39.99 USD
Reduced price
$ 19.99 USD
Unit price
per
-50% OFF
Sorry, I am Sold out.
A stick-on bra that sticks and stays - Rabbit bras!
Rabbit bra aka wonda bra is a special stick on bra in the shape of rabbit ears that sticks strongly to make you feel secure in your backless and strapless outfits. 
It minimizes bouncing, visible nipples, and back strain whenever possible. 
Eliminates nip slips with its strongest and skin-friendly adhesive.
Sticks and stays, not just to last for the next 5 minutes but until you want it to be.
Gives your girls some lift and offers painless removal with its non-sticky center for nipples.
This cute bunny bra is truly a must have in your closet.

Pushes your twins up!
Our Rabbit lift up bra creates a decent lift in the bust area giving your boobs a lovelier and perkier appearance.
Its cute rabbit ears don't let your breast appear saggy/small and lifts them up. 
Sticks strongly, and stays on there!
Rabbit bra aka innovative freedom bra stays tight on the breast even with dancing activities and stretching movements. Keeps you comfortable and tension-free. 
Sticks well and good enough to use over and over again if taken care of properly.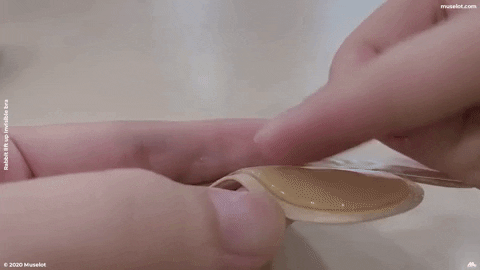 Offers painless removal 
The removal of this wonda bra is painless and it doesn't rip off your soft and sensitive nipples. These are made thoughtfully with an opening in the sticky part for the nipples to stay secure.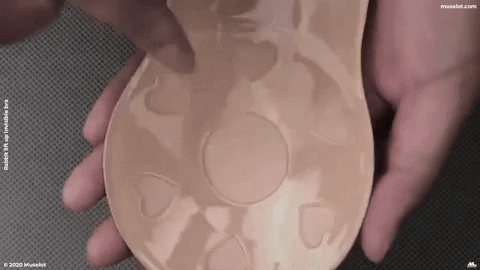 Perfect for backless and strapless outfits 
Rabbit bra is the best solution to show those sexy curves in backless, strapless, and halter outfits. 

Does not cause skin irritation
Our rabbit bras are made with skin-friendly and medical-grade silicone that does not cause skin irritation.
The upper part of this invisible lift up bra is made with polyester fabric and the tiny openings in the curve let the moisture breath out.
Doesn't lose its stickiness rather quickly
Rabbit bras can be washed and reused over and over again with no effect on the adhesive strength if taken care of properly.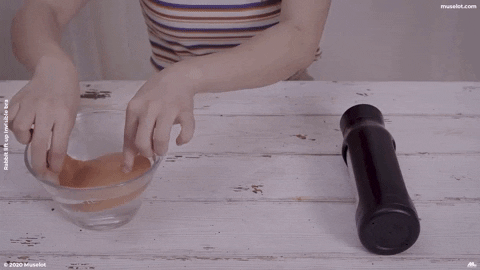 Can be cut down to wear deeper necklines
You can simply cut off the ears of rabbit bras if it pops out of the deep necklines, off-shoulders, or strapless outfits.

Has a delicate bra-less feeling
You would barely feel this rabbit ear bra to be on.
The thin edge and thicker padding of our stick-on rabbit bra in the center provide a natural feel and pump up your boobs for some lift.
It's lightweight and comfortable. 

Prevents back pain
Many women especially those with large breasts complain about experiencing back pain. This is sometimes not because of the natural weight of your bust but because of straps biting into your shoulders constantly.
Rabbit lift up invisible bras are available in large sizes, helps you enjoy the support without the pain.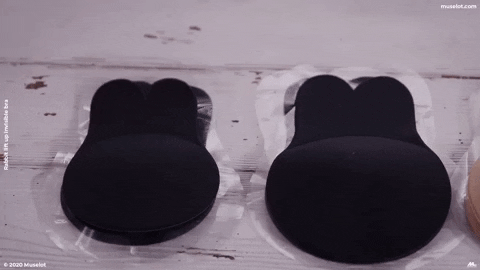 How to wear the rabbit bra?
Applying the rabbit bra is easy. But like anything in life, it will take a few practices to get the rabbit ears in the exact position you want. Once you've got the technique down, you'll be able to do it blindfolded.
Step 1. Wipe the breast with a warm towel. Wipe all oil, dirt, and sweat on the body. Ensure you have a clean and dry chest, free from any moisture, creams, oils, perfumes, or cosmetics, to ensure the effectiveness of adhesive.
Pro Tip: Apply the rabbit bra in front of a mirror to get the fit symmetrical.

Step 2. Hold the rabbit bra by the outward edges and apply the cups one at a time. Start from the bottom part of your boob while working your way upwards. This will make sure that you get the maximum lift possible.
Pro Tip: You should start from below the nipples but not underneath the breast (Yes! you heard it right) NOT underneath! 

Step 3. With the upper body leaning forward, lift the wings and stick them to the chest. Make sure you position the nipples in the non-sticky center of the rabbit bra.
Step 4. Next, smooth the cups on the boobs and flatten the edges to make sure that the rabbit bra is nicely stuck on your boobs.
Pro Tip: If you need to readjust the positioning of the cups, peel off the cups gently from top to bottom and reposition. If you attempt too many times, you'll need to wash and dry the cups to get them sticky again
Can you cut the ears of rabbit bras?
Scaling or cutting the ears of these boob lifters will not affect the stickiness of these deep v rabbit bras.
Below we show you different ways in which you can cut the rabbit ears to widen your options of necklines and low-cut outfits with which you can pair your rabbit bras.
Off shoulders? Cut the ears horizontally as shown below
Broad V neck or sweet necklines? Cut the ears diagonally as shown below

Care instructions
A rabbit bra is bound to lose its stickiness eventually.
The surface of the human skin has hair, sweat, bacteria, and other dirt. These things will stick to the adhesive, thus affecting the stickiness of the rabbit bra aka wonda bra.
But if you follow the following steps to care for your rabbit bras, they can last way longer. 
1. Before use, always wash your chest skin thoroughly with shower gel or soap. After washing, dry your skin with a towel. Do not leave any watermarks. Your skin needs to be clean and dry in order for the adhesive to stick properly.
2. Don't paste them on lotioned skin as the greasiness may shift them out of place. Make sure you don't use any moisturizer or cream on your skin before applying the stick-on bra. 
3. When removing the bra, peel it gently. Peeling it off in a swift motion can make it lose its adhesive power.
4. Don't wear it for longer than 8 hours as it can cause skin irritation and also make the stickiness less effective due to long exposure to sweat.
5. After each use, simply rinse the rabbit bra with warm water below 30 ℃ and mild soap, then air dry. This will wash off oils, sweat, and dirt that get stuck to the bra after it's been worn all day long.
6. Once dry, put the clear plastic sheets that come with the bra on top to protect the adhesive. If you lose the plastic sheets, you can use glad wrap or something similar. 
7. Regular washing is important to keep the tackiness of the adhesive. Hand-wash only, using warm water and liquid dish soap to remove any body oil or other residues that may clog the surface of the adhesive. Use the palm of your hand in a circular motion to clean. Do not use a towel to dry.
8. Do not expose it to heat and direct sunlight, air dry in the shade. Sweat and high temperatures may affect the stickiness of silicone.
Keep these points in mind and your bra will be your firm supporter for a long long time!
Delivery Time and shipping method
Free Shipping – Worldwide in 10-20 days.
Express Shipping – Only for the United States in 4-12 days (costs $5). Select this option at checkout if you want to receive your items faster.
Muselot's 6-point checklist
1. Free Insured Shipping on orders above $19.99. No surprises or hidden fees.
2. Safe payments via Credit/Debit Cards and/or PayPal®
3. Tracking number for every order.
4. 30 Day Money Back Guarantee 
5. Lost in transit, defective or wrong packages resent immediately free of cost.
6. Real humans on our support helpdesk! Feel free to connect with us at support@muselot.com. We reply before 24hrs.
We use encrypted SSL certificates for 100% security
Share
Shipping and Delivery

They are shipped within 24-48 hours of placing the order with us.

We offer both free and fast shipping services.

The delivery times depend on the shipping method you choose at checkout.

You can expect them to be delivered within 2 weeks of placing the order with us. 
Our 5 Point Checklist

1. Safe payments via Credit/Debit Cards and/or PayPal®

2. All orders sent with an Insured and Trackable Shipping service. You get a Tracking number for every order.

3. 30 Day Money Back Guarantee 

4. Lost in transit, defective, or wrong packages resent immediately free of cost.

5. Real humans on our support helpdesk! Feel free to connect with us at support@muselot.com. We reply within 7 hrs.

We use encrypted SSL certificates for 100% security